There are plenty of Coachella Valley Golf Courses for you to enjoy desert golfing whether you are a new golfer or a pro. Here are the ten best golf courses to add to your bucket list.
If you are interested in golfing in the Palm Springs area, you have probably found a wealth of information from reading about, playing, or watching the pros play the Big Boy golf courses. However, with all the information available, I would bet you have still missed a few.
These are my ten favorite Coachella Valley golf courses worth adding to your list: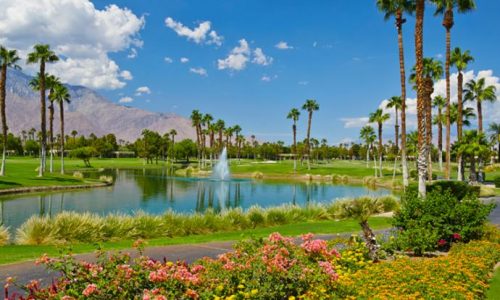 Located just minutes from Downtown Palm Springs, the meticulously maintained  Desert Princess Community features a 27-hole Championship golf course that abuts every residence.
Community amenities include a large Clubhouse with a public Bar, the Mountain View Grill, which is very popular for Sunday brunches, meeting rooms, a well-equipped pro shop, recreation and fitness center featuring state-of-the-art equipment. You will also find tennis, basketball, pickleball, bocce, and horseshoe courts. In addition, a full-service Spa with a hot tub and lap pool, along with 32 other pools and spas conveniently located throughout the community, so each residence is only a short walk to rest and relax.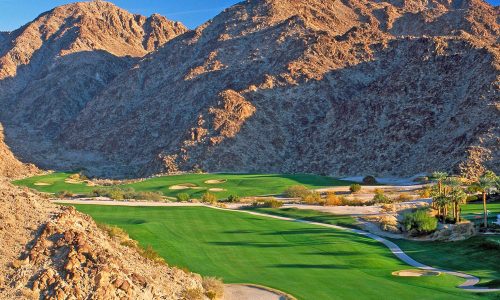 La Quinta Resort and Club at PGA West
Situated 20 miles from Palm Springs, the LaQuinta Resort and Club boasts premium luxury with world-class accommodations and facilities. This LaQuinta desert retreat offers five-star accommodations and facilities where you can indulge in the rejuvenating spa, enjoy fabulous food from world-class chefs and play a round on one of the five Championship courses at the nearby PGA West. 
The stunning courses at PGA West are just minutes from the La Quinta resort; all courses are available for play by resort residents and local visitors. You can choose from the Greg Norman course, the Nicholas tournament course, and three Pete Dye designs: the Dunes, the Mountain, and the Stadium courses.
La Quinta Resort offers many activities away from the golf course. Numerous pools are found throughout the community to soak up some California sun. Plenty of shopping is available, including boutiques and gift shops. Improve your skills at the tennis courts. Visit the full-service fitness center to sweat while you are on vacation and enjoy numerous classes: including spin, yoga, meditation, and more.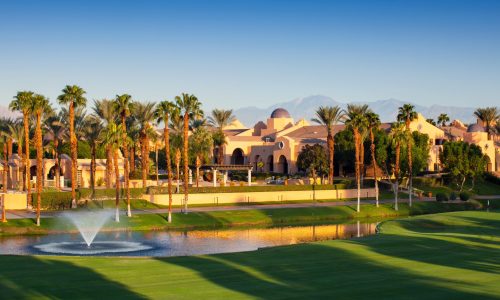 Westin Rancho Mirage Golf Resort & Spa
The Westin Rancho Mirage Golf Resort is located in Rancho Mirage in a semi-rural location. The resort is a 3-mile drive from Agua Caliente Casino and 10 minutes from San Jacinto mountains. The 360 acres of lush landscaping and remote location create a tranquil experience. 
You will enjoy an oversized comfortable room with a stocked mini-bar, entertainment center, and a private patio or balcony. This delightful resort has been named one of the Top 75 Golf Resorts in North America by Golf Digest. The 360 acres of lush landscaping and tranquility provide an 18-hole Championship Pete Dye course and additional amenities like a pool, tennis courts, a fitness center, two restaurants, and two bars.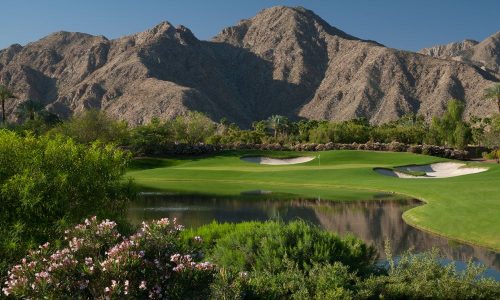 The home of the 2008 Skins Game, Indian Wells Golf Resort is one of the finest desert golf courses with a 36-hole golf course. This magnificent resort features a 53,000-square-foot Clubhouse and Vue Grille & Bar. It is the only facility in California with two courses ranked in the top 20 Best Courses You Can Play in California by Golf Week Magazine. 
The breathtaking mountain vistas, meandering streams, natural flowers, and striking waterfalls are spectacular. Both courses provide golfers with the challenge of being both playable and diverse. Not only is the Indian Wells Golf Resort great for golf tournaments and group outings, but also for wedding ceremonies, receptions, and family weekend getaways.
The Classic Club, located in Palm Desert, was designed by Arnold Palmer. The club cohosted the Bob Hope Chrysler Classic between 2006 and 2008. The layout of this course has been described as a desert track but still manages to have thirty acres of water hazards.
The Bellatrix restaurant and bar at the Classic Club is a destination for good times and excellent food. The menu includes Mediterranean, Asian, French, traditional steaks and seafood, and an extensive wine list. This is a preferred destination for Valley residents and visitors.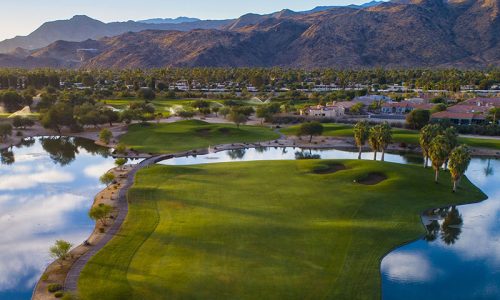 Tahquitz Creek Golf Resort
The Tahquitz Creek Golf Resort is the pride of the City of Palm Springs. It is just minutes from the Palm Springs International Airport and Downtown Palm Springs. Tahquitz Golf Resort offers two challenging championship golf courses. Golf Digest recently rated this resort as "One of the Best Places to Play" for golf resorts. 
The resort also offers full amenities, including a 50-stall grass driving range, a chipping ring, two large putting greens, and PGA and LPGA golf instruction. This resort can accommodate your tournament corporate function, banquet, or friendly group outing. The recently renovated Traditions Cafe also offers excellent dining and a great place for refreshments and enjoying the sunset after your round of golf.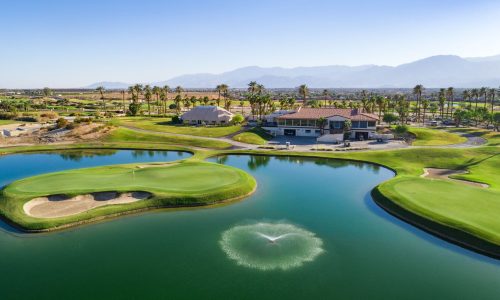 The Golf Club at Terra Lago
The Golf Club at Terra Lago is located in Indio, just a short drive east of Palm Springs in the beautiful Coachella Valley. This resort offers a premier desert golf experience with two courses rated four stars by Golf Digest's Places to Play and hosted the PGA Tour Skins game from 1999 through 2002. 
The Golf Club at Terra Lago presents 36 challenging holes. The North course features dramatic elevation changes, stunning views, and a beautiful yet challenging island green par 3 featured during the Skins games. The view from the 7th Tee box is considered one of the best in the Valley, where you will find a complete panoramic view from one end of the Coachella Valley to the other.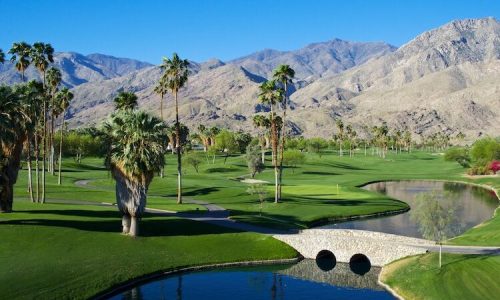 Indian Canyons Golf Resort
The Indian Canyons Golf Resort in Palm Springs is surrounded by breathtakingly colorful, natural mountain vistas on three sides. It is sheltered from the wind and nestled at the base of the San Jacinto mountains. This jewel of the desert is located at the entrance to the historic Indian Canyons. It is uniquely positioned to offer you an unrivaled golf experience in the greater Palm Springs area.
The facility offers two very distinctly different golf courses; each is a reflection of its time. The South course is an 18-hole championship course that was redesigned by Casey O'Callaghan in 2004 and consultant Amy Alcott, LPGA Hall of Famer. This par 72 is a 6,582-yard championship course with four large lakes that come into play on six holes. But, the most extraordinary feature is the five 5-par holes. This course also features rolling mounds and fairways with more than 850 palm trees, including some 500 Washingtonia Filiphera palm trees native to the Agua Caliente tribe, which was an important tree in the history of the tribe.
The North course is a par 72 and 5,943 yards. William P. Bell designed this course, and it is heavily steeped in tradition. This classically designed course meanders through Palm Springs' stylish Canyon region, which boasts a wide array of authentic mid-century homes and stunning mountain views.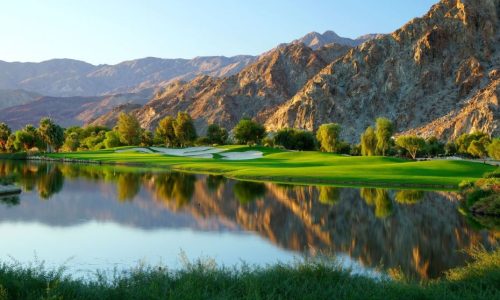 Located in La Quinta, the Silver Rock Golf Resort is owned by the city and managed by Landmark Golf Management. The Arnold Palmer classic course is a challenging 7,239 yards that sprawl over 200 acres with massive native bunkers and stunning water features set against a backdrop of the natural beauty of the Santa Rosa Mountains. Silver Rock is the former home course for the PGA tour's Bob Hope Classic from 2008 to 2011. 
If golf doesn't fully satisfy your appetite, enjoy lunch on the patio with the picturesque backdrop of fairways, greens, and the beautiful mountains that make La Quinta the true gem of the desert. Silver Rock also offers wireless internet connections if you'd like to surf the internet while you sip your coffee and enjoy the tranquil atmosphere. Silver Rock Grill is also open for breakfast and lunch daily from 6 AM to 5 PM, with indoor and outdoor seating.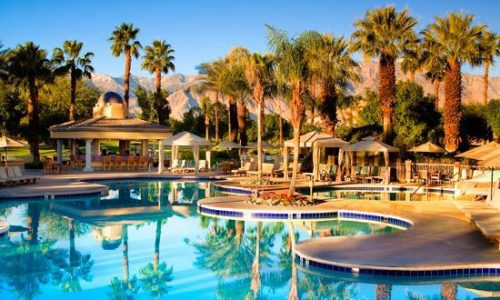 Westin Mission Hills Resort
The Gary Player course at Westin Mission Hills Resort has a 7,062-yard par 72,18-hole course renowned for its environmentally careful integration with the desert landscape. The driving range and practice facility at Mission Hills, Gary Player course is one of Coachella Valley's best and most versatile. It features a full grass tee line with multiple target areas, allowing golfers to work on all clubs in their bags. 
Mission Hills North Gary Player Signature course has proved popular with the public and resort golfers. It is an alternative to the Pete Dye Course and is generally easier for the average golfer to play. Gary Player's design uses water extensively, with Lakes coming into play on ten holes. Imagine the breathtaking views of waterscapes, waterfalls, and the peaks of the San Jacinto mountains as your golfing backdrop. Gorgeous sunrises and sunsets are unlimited and free.
As you can see, there are so many beautiful, intriguing Coachella Valley golf courses to experience.
Whether you are looking for a great place to golf or a fabulous place to live in the Coachella Valley, I can help answer your questions. Contact me, Stephen Burchard, The Desert Bowtie Realtor®, taking the (k)nots out of real estate.