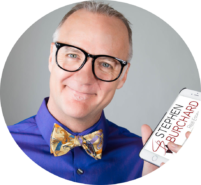 Welcome Home!
Have a seat and get comfy while we get to know each other. After all, who better to help you sell or buy a house than a friend? A friend who just happens to be a leading Real Estate entrepreneur and innovator in the Coachella Valley.
I know how business works. Let me use that knowledge to make real estate transactions a snap for you.
Whether selling your family home, purchasing land, flipping a property for profit, or moving your small business, I'm ready to put my experience, knowledge, and professionalism to work for you and your referrals. I'm Stephen Burchard, The Desert Bowtie Realtor, taking the (k)nots out of real estate. 760.925.5295
Ready to buy?
Blending analysis, motivation, and pizazz, I have unique insights poised to bring the ideal property for your unique needs and lifestyle to light. If selling is what you're in the mood for, I've got the skills to guide you into the strategic positions and personalized marketing outreach you need for irresistible results.
Clients love my knowledge of the area and my ability to get things done. You see, I have a remarkable process that smooths out the rough patches. It's a simple process that can be summed up in three words: EDUCATE, NEGOTIATE, and COMMUNICATE.
EDUCATE
I educate and "translate" industry language so you can fully understand and participate in the process, making the best decisions for your optimal outcomes.
NEGOTIATE
I negotiate with providers on your behalf in real estate transactions to reduce your stress, resulting in a smoother, more enjoyable process.


COMMUNICATE
I communicate, step by step, and walk side by side with you throughout the entire process. You are NEVER alone with me by your side.


Stephen recently helped me to purchase my first house. The way he embraces technology makes communication a breeze. It also allowed me to see the house come on the market and make an offer before the seller was inundated with offers they surely would have received at the price my house went for.

SH, Palm Springs
The Desert Bow-Tie Realtor, taking the (k)nots out of real estate
Specialties:
Residential Real Estate Consultation and Sales
Commercial Real Estate Consultation and Sales
Investment consultation and analysis
REO Asset management
Education
Real Estate Broker, CA BRE 01320538
Master of Arts in Organizational Management, University of Phoenix
Bachelor of Science in Business Management, University of Phoenix
Project Management—MS Project, New Horizons
Some Noted Accomplishments
Redesigned workflow processing and general business strategies for private and non-profit organizations.
Designed and redesigned organizational structure and crafted marketing, sales, and infrastructure for private and non-profit organizations.
Creatively directed the analysis and design of new and improved business processes and strategies for organizations.
Routinely coordinated and expertly facilitated high priority meetings, conference calls and networking/sales events, in addition to team meetings, presentations and other firm events.
Supported and enhanced business information systems used to drive products, services, and business models, which was accomplished through analysis and design of new and improved business processes, including the creation of high-level workflow diagrams and requirements documentation.
Effectively recruited, managed, and developed the abilities of sales associates and employees and increased gross sales 150% through training and leading associates in new marketing practices and methodologies.
Check out Stephen's LinkedIn profile