When buying a Palm Springs home, you need to weed out the duds from the diamonds. Asking these ten important questions will help you find your gem!
Finding the right home involves a lot of research, so you need to ask the right questions to know you're making a competitive offer on a home you can afford and one that meets your long-term needs.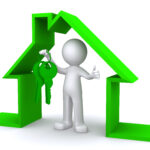 What is my total budget?  
Don't waste time looking at houses without understanding how much home you can afford. Additional costs beyond the sale price include property taxes, homeowners insurance, maintenance, and renovations. Also, don't forget HOA fees if you're moving into a gated community. Finally, if you want your offer accepted, you must show your financial means to buy the house. That means you must get pre-approved for a mortgage. 
Is the home in a flood zone or prone to other natural disasters?
Be aware that homes in a federally designated, high-risk flood zone require flood insurance. Using FEMA's flood map service, you can determine whether a property is in a high-risk flood zone. Remember those wildfires here in California as well. You will also find information on FEMA's site about wildfire areas. Likewise, if you're buying a home in California or another region where earthquakes are common, you may want to consider getting earthquake insurance. It is not as expensive as it used to be. Ensure you purchase enough homeowners insurance to cover the cost of completely rebuilding your home. If a major disaster hits and you're underinsured, you could be left footing a massive bill to repair or rebuild your home.
Why is the seller leaving?
Understanding why the seller is moving, whether due to downsizing, job relocation, or a significant life event, might help you get a better deal on the property. A good buyer's agent will try to find out this information for you to gauge how flexible the seller may be during negotiations. For instance, a motivated seller who needs to move quickly or whose home has been on the market for a while is more likely to work with you than someone who isn't in a rush to move.
Were there any additions or major renovations?
Property records and listing descriptions don't always match up.  For example, a home might be advertised as having four bedrooms, but one of those rooms may be a non-conforming addition that doesn't follow local building codes. Find out what major repairs or renovations the seller has done since owning the home. It's also wise to request the original manufacturer's warranties on appliances or systems that have been replaced. Knowing the home's improvement history can help you better gauge its condition and understand the seller's asking price.
How old is the roof? 
Let's face it roofs are necessary and expensive. If a home's roof is at the end of its lifespan and you have to replace it shortly after moving in, you'll be shelling out thousands of dollars. If the roof has existing damage, the lender may require that it be repaired to approve your loan. If the listing doesn't list the roof's age, find out to avoid a costly home improvement headache later.
How long has the home been on the market?
The longer a Palm Springs home sits on the market, the more motivated the seller will likely be to make a deal. You might find the flexibility to negotiate the price, contingencies, terms, and credits for replacing outdated carpets or other noticeable issues. Often, a home will languish on the market if it is priced too high initially, resulting in multiple price reductions. A listing that shows numerous price cuts and has been sitting on the market for too long may leave the impression that something is wrong. However, that is not always the case, giving you a prime opportunity to negotiate a deal.
How much have homes sold for in the neighborhood?
Understanding the current market will help determine whether a seller's asking price is reasonable or too high. Your realtor can pull the comparable listing data for similar homes that are currently on the market and ones that have recently sold in the past six months so you can make a comparison and an informed decision.
What are the neighbors like?
Getting the authentic feel of a neighborhood can be difficult before moving in, but you shouldn't overlook this aspect. Ask the seller what the neighbors are like. Are they noisy or quiet, friendly, or more likely to keep to themselves? Is it a pet-friendly area?  Don't rely solely on the seller to reveal these details; you might not get the whole story. Instead, drive the neighborhood, stop, and speak with the neighbors. Neighbors are an excellent way to get information about the community that a seller might not want to share with you.
Are there any problems with the house?
Sellers must provide seller disclosures regarding any defects or known conditions of the property, but what they don't disclose and you don't know may lead to significant issues. That's why it's critical to get a home inspection done by a professional home inspector as soon as a purchase agreement is signed. The inspection report outlines the home's overall condition and can help you negotiate future concessions, such as repairs and seller-paid credits, before closing the deal. For example, suppose a home has too many problems, and you included an appraisal contingency when you made the offer on the house. In that case, you'll be able to back out of the deal without penalty and, in most cases, get your earnest money deposit returned.
How much will I pay in closing costs? 
The down payment isn't the only cash you'll need to fork over on the closing day. You'll also be responsible for closing costs, typically including loan origination fees and third-party fees such as title research, processing, preparing documents, appraisal, and other administrative tasks. Expect to pay around one to two percent of a home's purchase price. Closing cost amounts can vary depending on your area and state. The closing disclosure, which a lender must provide you three business days before closing, will spell out all of your loan fees and how much cash you'll need to pay once both parties sign the closing documents and the escrow company sends it to the lender. The lender will then fund the loan. Now you're a homeowner.
Your best bet is to have a reputable real estate agent working on your behalf when you are looking to buy a Palm Springs home. 
Please ask if you have any questions about buying a Palm Springs home. Contact me, Stephen Burchard, The Desert Bowtie Realtor®, taking the (k)nots out of real estate.