If Palm Springs isn't known for its amazing golf courses and desert weather, then it is undoubtedly known for its mid-century modern homes.
In the early 1920s, Rudolf Schindler built the first US mid-century modern home in West Hollywood. Since then, architects have been designing modern homes that shaped what we know as Desert Modernism. Clean lines, indoor/outdoor spaces, neutral color palettes with many colorful doors, and various styles of roofs are all part of Desert Modernism architecture.
True confession…I am a Mid-Century Modern Nerd who knows some of the best neighborhoods in the Coachella Valley to find these jaw-dropping homes.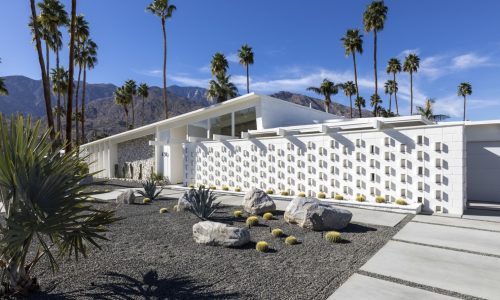 The first neighborhood is Vista Las Palmas, located between Downtown Palm Springs and the beautiful San Jacinto mountains. Here you will find the largest number of Alexander homes as they are known because Alexander Construction Company built them. A majority of these homes have an A-frame or Swiss Miss front entrance. You can learn more about Alexander homes in this Palm Springs Life article. 
Many Hollywood stars made this neighborhood their home. In fact, Nat King Cole and Marilyn Monroe lived just a couple of doors down from one another!
In my Mid-Century Modern nerd opinion, Indian Canyons has the most impressive collection of homes.
Some of the architects that designed the high-end homes for this neighborhood were Palmer & Krisel (who also designed the Alexander homes), Donald Wexler, and Roy Fey. These homes are found in South Palm Springs, just South of La Verne Way and East of S. Palm Canyon Drive. This neighborhood is close to Smoke Tree Ranch and the Indian Canyons Golf Course.
The famous Instagram pink door can be found here. Driving through this neighborhood, you quickly learn there is no shortage of bright, colorful doors. 
If you are interested in this neighborhood, it is essential to note that much of this neighborhood is located on lease land, with a few on fee land.
Twin Palms is the first neighborhood where Alexander Homes were built. It is situated just north of Indian Canyons, north of La Verne Way but South of E. Palm Canyon Drive. The name for the neighborhood came about because the developer planted two palm trees on each property.
Twin Palms is the best neighborhood to find butterfly roofs. This roof design features two panels that meet in the middle and slope upward, resembling a butterfly's wings.
Just north of Twin Palms, on the north side of E. Palm Canyon Drive, and west of Sunrise way, you will find the neighborhood of Deepwell Estates. This lesser-known neighborhood quickly became one of my new favorites.
During Christmas, this neighborhood does an impressive job decorating, and it was a joy to drive through at night. During the days, you can enjoy seeing towering palm trees and a head-turning variety of homes.
Because these homes are closer together, you can see many without covering too much territory. Although Palm Springs is peaceful, Deepwell Estates felt exceptionally calm and charming.
Characteristics of Palm Springs Mid-Century Modern Homes
Mid-Century Modern homes possess three prominent characteristics:
Minimalism
These homes have sleek lines and simple designs that prioritize functionality over everything else. Nothing about the architecture of these homes is superfluous.


Emphasis On Nature
What better place to bring nature into the home than Palm Springs? Most of these homes have large floor-to-ceiling windows that invite the outdoors in. 


Unique Angular Designs
You can expect homes with non-uniform rooflines to defy conventional architectural design. 
Palm Springs has no shortage of these gorgeous homes. 
In residential areas of Palm Springs, homes cannot be built higher than one story. And the reason is so that no one is blocking anyone's view of the mountains, and no one can see into your backyard.
If you have questions about Mid-Century Modern Homes in Palm Springs, call me, your favorite Mid-Century Modern Nerd.
If you are considering buying or selling in the Palm Springs region, schedule a free call to learn more about the area. Contact me, Stephen Burchard, The Desert Bowtie Realtor®, taking the (k)nots out of real estate.