There are so many things to do and see in Palm Springs; finding a great place to eat & drink while you are out adventuring may be necessary.
There are many beautiful destinations in this country, but by far (in my unbiased opinion) is Palm Springs. Ok, I am biased, but when a town takes sitting by the pool and enjoying cocktails as seriously as Palm Springs does, there is little to complain about.
With all there is to do between poolside mojitos and dancing at CoachellaFest, there are also some perfect spots to eat & drink. You will find great places, from classic old haunts where Marilyn Monroe got her freak on to the modern spots popping up downtown. There is no doubt that Palm Springs is a culinary destination not to be missed.
I researched and tested out the best places to eat & drink for you, and it was my pleasure. I've compiled a list of the best spots for breakfast, brunch, lunch, and dinner for your next desert adventure to this glamorous resort town.
1. LULU California Bistro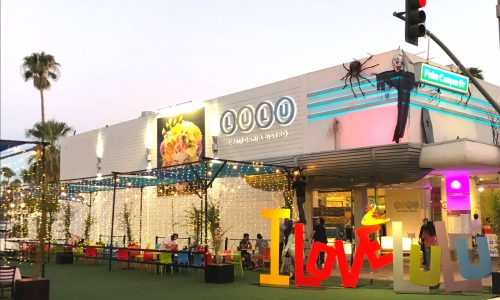 Modernism meets the restaurant scene here in downtown Palm Springs. It is the funkier, modern version of Aqua Pazza in Rancho Mirage. You will find a sleek mid-century modern design and chic artwork. LULU has a modern vibe that embodies the spirit of Palm Springs. Seating includes the circular bar, two floors of indoor seating, and a patio boasting some of the best views for people-watching. LULU specializes in California cuisine and offers a three-course prefixed menu for Sunday brunch and happy hours during the week. The fabulous menu includes seafood Benedict, Russian paninis, and French crepe maison. You will experience a brunch with atmosphere and character at LULU California Bistro. Unfortunately, they do not take reservations but utilize Open Table to let you know when your table is ready. Learn more about them on their website: https://lulupalmsprings.com/
2. Sherman's Deli & Bakery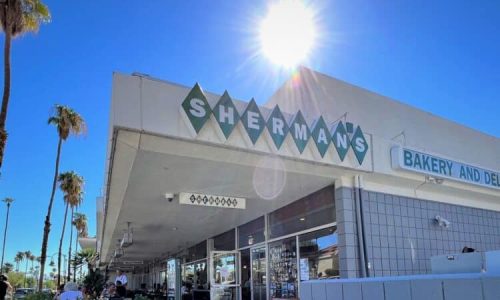 Start your day in a New York style by dining on the patio at Sherman's Deli & Bakery. You will find this popular Palm Springs restaurant just off the downtown strip. Sherman's is known for its fresh bagels, which make a great breakfast combined with its famous lox. Egg lovers have difficulty choosing from the extensive omelet and scramble menu, while fish lovers can enjoy the numerous gourmet fish platters served at breakfast. On your way out, pick up a few fresh baked treats from the front case bakery. The local favorites include blueberry muffins and the New York-style cheesecake. Check out their delicious menu at their website: https://shermansdeli.com/.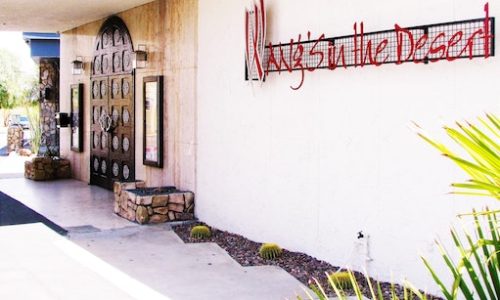 Wang's in the Desert offers some of the best pan-Asian cuisine and fusion creations in Palm Springs. Combined with immaculate decor and daily drink specials, they are a local favorite for dinner. The menu includes Thai, Chines, Korean, and Japanese dishes and a dim sum menu. Guests can choose between the elegant ambiance of the dining room or the lively atmosphere of the bar and outdoor patio areas. The menu highlights all gluten-free items to accommodate your dietary needs easily. Happy Hour offers great drink and appetizer specials that are not to be missed. Find out more here: https://www.wangsinthedesert.net/.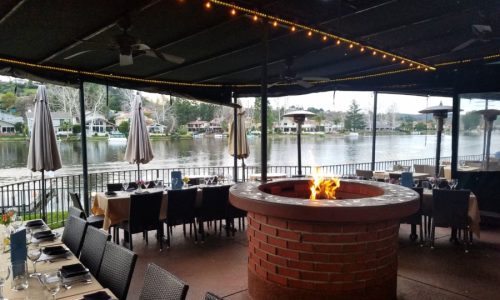 After lounging by the pool or touring the Palm Springs Art Museum, you should treat yourself to a fine meal. Enjoy a handcrafted cocktail and the delicate dew of misters dancing on your face on the patio while waiting for your meal. That's what I was looking for when I found Zin American Bistro, located across the street from LULU California Bistro. It's an award-winning restaurant serving Palm Springs locals and snowbirds since 2004. If you are considering a stop here, you can find more information on their website: https://www.zinamericanbistro.com/.
5. Kaiser Grille Palm Springs
Kaiser Grill is a favorite downtown destination for casual upscale dining. Offerings include seafood, steaks, chops, pizza, salads, and an unbeatable Happy Hour. The fresh, top-quality ingredients make each dish flavorful and healthy. They offer natural hormone and antibiotic-free meats and organic produce whenever possible. Their website provides menus and more: https://www.kaisergrille.com/.
6. Copley's on Palm Canyon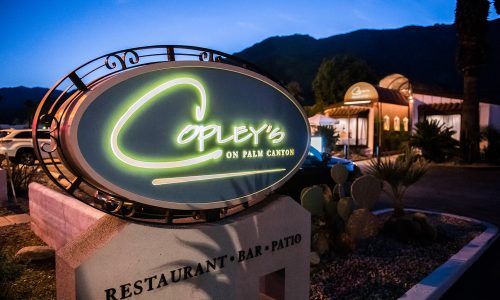 Located in the courtyard of the former Cary Grant estate, you will find this not to be missed restaurant. The space is almost entirely outdoors, with ridiculous mountain views in an idyllic Palm Springs setting that you will trek out past the windmills and into the desert to experience. You can enjoy the best steaks in town in one of the quintessential Palm Springs romantic date night locations. Visit their website for the details: https://www.copleyspalmsprings.com/.
Here in Palm Springs, you will find a variety of delicious dishes and scrumptious cocktails. The next time you're in town, add these incredible restaurants to your list and enjoy an excellent experience with every breakfast, lunch, and dinner. 
If you're considering buying or selling in Palm Springs, you may have questions beyond where to eat & drink. Don't hesitate to contact me,  Stephen Burchard, The Desert Bowtie Realtor®, taking the (k)nots out of real estate to get answers to those questions.