What is it like to live in Palm Springs year-round? Should you move to Palm Springs? I can answer those questions for you.
I love living in Palm Springs!
Palm Springs is a world-class resort destination. The weather is excellent, it's affordable compared to many other California cities, and there is always something to do.
People want to move to Palm Springs for many reasons, including:
Weather
People are attracted to this area in the winter because of temperatures in the 70s and 80s. It is easy to fall in love with the beautiful days in the winter. However, this is the desert, so you can expect three months of really hot summer temperatures. The hottest months are July, August, and September. 
Like other areas of the country that learn to combat the cold winter, in Palm Springs, we learn to plan most of our outdoor activities in the morning when it is cooler. And thank goodness for air conditioning! 
Summer is also when many enjoy time at the pool; of course, we are only a couple of hours from the beaches. 
Sunshine is a staple here year-round. 
Palm Springs averages about 5 inches of rain per year, only raining about 15 days out of a year. People are not used to the rain here, so be cautious when driving because the roads do become slick. 
If you are considering moving here but are concerned about the summer weather, I suggest you do a trial run. Plan a stay at one of the many hotels or AirBNBs to try it out and see how you feel.
Activities
There are many attractions and activities to keep you occupied in Palm Springs.
Palm Springs Aerial Tramway
The most popular is the Palm Springs Aerial Tramway. The Tramway is open year-round, except for a few weeks in October for annual maintenance. A rotating tram car will carry you over the desert floor at 8,516 feet to the top of Mt. San Jacinto. It is a 2 ½ mile trip that takes about 10 minutes. The views are amazing. At Mountain Station, you will find restaurants, observation decks, two documentary theaters, natural history museum, a gift shop, and hiking trails. Many people head to the Palm Springs Aerial Tramway to escape the heat in the depths of summer. The top of Mt. San Jacinto's temperatures is about 30 degrees cooler than down on the desert floor. Summer passes are offered at special prices.
Golf
Golf is a year-round activity in Palm Springs and the Coachella Valley. With about 130 Golf Courses, you will find a wide range of levels to match your skills, from Pro courses where LPGA and PGA golf tournaments have been played to less challenging courses.
Hiking
Another favorite year-round activity is hiking. The hiking trails are numerous, ranging from less strenuous to more demanding. Being outdoors in nature is restorative.
Tennis
Tennis is another favorite activity here. BNP Paribas Open is the 5th largest tennis event in the world and is held at the Indian Wells Tennis Gardens right here! However, if you aren't ready for the pros, you will find numerous tennis and pickleball courts across the entire Coachella Valley.
Village Fest
Downtown Palm Springs holds Village Fest every Thursday night. This popular street fair has many vendors and various things to buy.
Film Festivals
In January, a star-studded event, The Palm Springs International Film Festival, is held. The popular festival recognizes the top films of the year.
Music Festivals
If you enjoy music festivals, some of the top ones in the world are at the Polo Grounds in Indio. The Coachella Music and Arts Festival and the Stagecoach Music Festivals occur in the spring.
The Pass
Wind turbines line your drive into Palm Springs from the west. The Pass, as it is known locally, is an area between San Jacinto and the San Bernadino mountains where a natural wind tunnel occurs. January and March tie for being the windiest months of the year.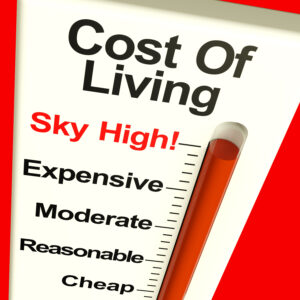 Cost of Living
Housing Costs
Palm Springs housing costs rank higher than the national average because California's home prices are higher overall than in the rest of the US. In Palm Springs, the median price home was $849,900 in January 2023. But, of course, you can find more expensive and less expensive homes. Home prices depend on the type of home and your desired location, which can make a big difference.
Palm Springs prices are high but not the most costly in the Coachella Valley. Indian Wells is the most expensive real estate in the Coachella Valley. In January 2023, the median list price was $1.68 million. Desert Hot Springs is the least expensive at $360,507 average sales price.
Transportation
Most people use their car as a primary means of transportation in Palm Springs and the greater Coachella Valley, although public transit is widely accessible. 
California does have higher gasoline costs due to the refinery requirements and clean air regulations. However, it is less expensive here than in Los Angeles or San Diego. With the increase in electric vehicles, you can find charging stations available from one end of the Coachella Valley to the other.
Grocery Costs
Here we do find good news. The average cost in Palm Springs is about the same as the US average and about 5 percent less than the California average.
Utility Costs
The cost of utilities in Palm Springs is 7% higher than the US average and slightly higher than the California average.
Healthcare
The average healthcare cost in Palm Springs is 12% less than the US average and 7% less than the California average. Palm Springs has several healthcare providers and services available, including Desert Regional Medical Center in Palm Springs and JFK Hospital Indio, which are part of the Desert Care Network. You will also find the Eisenhower Medical Center close by in Rancho Mirage.
Taxes
It may be no surprise to you; taxes are high here, including sales and income taxes. 
Sales Tax
Sales tax is a combination of state, county, and local sales tax rates. What you will be charged can vary from city to city. California's base sales tax rate of 7.25% is higher than that of any other state.
Property Tax
As a rule of thumb, property taxes are 1.25% times the purchase price of a property. 
California has some of the highest sales and income taxes in the nation. However, property tax rates are below the national average. 
Income Tax
California's top marginal income tax rate is 13.3%. This ranks California as the highest in state income tax rates. Of course, income tax rates will vary depending on each taxpayer's individual finances.
Walkability
As previously mentioned, most people find a need for a car to get around from one place to another.   
Palm Spring has a walk score of 59, meaning it is somewhat walkable. The walkable areas include Downtown Palm Springs, Uptown Shopping District, Ruth Hardy Park, Demuth Park, and the hiking trails.
Palm Desert's walk score is 27. The walkable areas include the El Paseo shopping area, Westfield Mall, and Palm Desert Civic Park, but you need a car to get to each destination.
Living in Palm Springs year-round is an incredible experience. With its sunny days, stunning views, and range of activities and attractions, it is no wonder why so many people make this desert oasis their home. Its unique climate and array of activities make this an enjoyable year-round home.
If you have questions about buying or selling a home here, I'd love to schedule a free consultation call with you. Contact me, Stephen Burchard, The Desert Bowtie Realtor®, taking the (k)nots out of real estate.