You may feel like you hear this every year, but time seems to fly by, especially this year! So I hope that you had a year of experiences that brought you joy!
Completing the year with a bang, pardon the pun, is the best! On new year's eve, we all have our way of celebrating by blessing the old and bringing in the new. One of the best ways to celebrate is to clear out the cobwebs that may interfere with the celebration.
A friend once told me that the way we do New Year's Eve is how the year goes. I don't know how true that is, but I know this past year, I was pretty unconscious about what I was creating. I was on autopilot and did what I've always done instead of being brave and doing something different. Oops!
Well, remember the definition of insanity? As Albert Einstein is quoted, "Doing the same thing over and over and expecting different results." I wanted a new and better year this year, but I got what I created in 2021. Eek! That was not my intention.
My word for the year was Tranquility; hmmmmm, how did I do on that?
So, my task before new year's eve is to complete 2022 thoroughly. What did I learn, what did I accomplish, what could I do better, what do I want to do more of, how can I stretch myself, how can I be a better version of myself… well, I think you get the idea.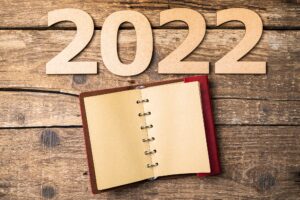 If you haven't examined your year 2022 yet, here are some tips:
1. Make a list of what you learned. 
These can be things you attempted that turned out better than expected and things you tried that didn't work out well. There are lessons to be learned from both, and we don't often do this examination as we plan for the following year.
2. Review your resources.
You are likely taking on too much if you are running your own business. (Ummm…don't ask me how I know.) Instead, ask yourself these questions: Do I need to hire some part-time or full-time help? What recurring tasks can you delegate? Are there any software apps that could be used to make tasks easier? If you want different results in the upcoming year, you must determine what resources best suit your needs.
3. Think bigger!
You may have accomplished a lot this year, but what can you accomplish next year? You have been improving as you experienced new things and learned new lessons. Now the new and improved you can set bigger goals with the help of the resources you decide to add to your business. So, what are your stretch goals for 2023?
This is a challenging task, but it will yield fruitful results. So, before launching into 2023, I will exercise all of my "stuff" from 2022, elicit what I learned, etc. The new year feels much better knowing I may not have hit my goals, but I did learn from my mistakes.
Then with a clear head and heart, I can begin 2023 with excitement and energy.
Happy New Year!
If there are any real estate goals on your 2023 plan, contact me, Stephen Burchard, The Desert Bowtie Realtor, taking the (k)nots out of real estate.